Welcome to our web site. Able Sail/Handi-Voile is a not for profit organization dedicated to providing sailing opportunities in Shediac Bay to the disabled in the Southeastern New Brunswick region.
A fun filled fund raising event took place at Fishermans Restaurant in Shediac on February 16, 2018. See photos here.
Our parasailor Alyssa Belliveau places 2nd at the 2016 Mobility Cup Regatta in Pointe Claire, Québec. Click here for more details.
See information on the 2018 BIG BREAKFAST and the Gordon McRae race in the Activities section.
See a video on Able Sail from the Weather Network
Able Sail / Handi-Voile Inc. is a unique project, its main objectives are:

1.Fun.
2. Integration of disabled persons into the Shediac Bay sailing community.
3. Offering relaxing recreational sailing for all persons with disbilities.
4. Disabled persons, if they wish to learn how to sail competitively with instruction from our experienced sailing staff.

Eligibility

No matter what disability you may have, we believe that you can enjoy sailing and therefore are eligible for our program. No previous experience is necessary. If you use a wheelchair we have an electric lift that enables us to place you safely and directly into one of our boats specifically designed with counterbalanced seats. If you use a ventilator, please bring along a friend to help you.
Cost
Individuals $20 for the season
Organization/Group $200 for the season
Staff
Able Sail/Handi-Voile hires certified students to operate its sailing program for the disabled during the summer months.
Our employees are experienced and qualified sailors who have been chosen for their desire and ability to help you enjoy safe sailing.
Summer staff for 2018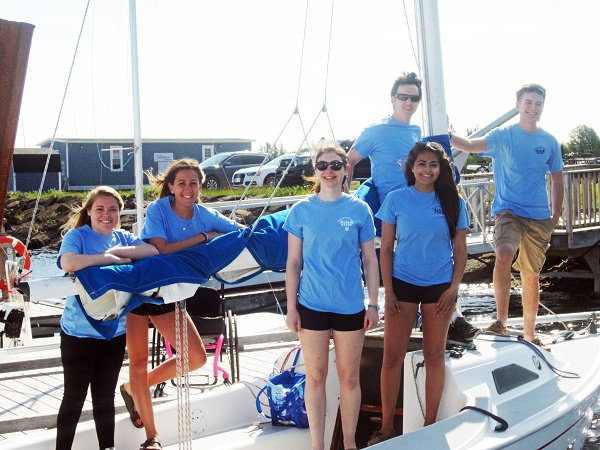 From left: Alyssa Belliveau, Lucie Ford, Molly Dysart, Nicolas LeClerc, Gillian Sheppard and Andrew Dysart
BOARD OF DIRECTORS
The management and administration of the affairs of the organization  is conducted by a Board of Directors composed of a minimum of seven (7) persons and a maximum of fifteen (15) persons.